Game Rules
TIME RULES:
15 minute halves for a non-certified event, Half time—4minutes
16 minute halves for a certified event, Half time—4minutes
Minimum of 6 minute warm-up between games.
Clock: Runs with a 30 point lead in the second half. No pressing allowed.
Time outs: 2 Full 2 30 sec. per game.
Overtime: 1

st

: 3 minutes 2

nd

: 2 minutes 3

rd

: S

UDDEN DEATH

.
Each team gets an additional time out.
CLOSELY GUARDED/HELD BALL
There is a 10 second backcourt violation in events that do not have a shot clock.
There is also a 5 second closely guarded violation.
FOULS
Free Throws: 1 and 1 on 7

th 

team foul. Double bonus on 10

th 

foul.
Players are allowed 6 personal fouls.
GAME PERSONNEL:
Team listed first or on top is the home team (light jerseys) and will sit
to the right of the score table when facing the court.
Team listed second is the visiting team and will sit to the left of the
score table when facing the court.
Home team provides a game ball.
Tournament Rules
TOURNAMENT RULES
The tournament director has the right to forfeit a game if a team does not have its starting five ready to play at the scheduled tip off time.
Premier Basketball has the right to approve a team and or a player to play down in a division. You must request approval from the tournament director 5 days prior to the tournament beginning via email. Our goal is to provide competitive games.
Player's age is based on Grade Only. All coaches MUST be able to have access to a player's report card on hand at each tournament in case of a protest. If you cannot provide a report card with the player's name, with a date on the report card to prove that it is a current report card, then the player must sit out until proof is given.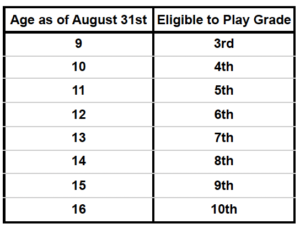 A player can only play with ONE TEAM in all Premier Basketball Tournaments. Failing to comply with this rule will result in game forfeiture.
A fee of $100.00 cash (refunded if protest is upheld) must accompany all protests. Protests must come from the Head Coach listed on the official roster for the event. Protest on eligibility must be made before the game begins. Protest cannot be made on a player's eligibility during a game or after a game is completed.